Pink City- A Place for Culture, Food and Art Lovers
Rajasthan is a beautiful fusion of culture, art and food. Jaipur being the capital city of Rajasthan is a prime destination for the tourists. The place is full of great examples of architecture and allure people from all over the world. Throughout the year a bunch of festivals and events happen in the city. Locales of this region try to find ways for celebration and our event Cairn Pink City Half Marathon is a great way to celebrate happiness.
Cairn Pink City Half Marathon is an International Running Event which is going to be held on 15th December 2019 in Pink City Jaipur. This is an open event which welcomes people from different parts of the country and all over the world. The purpose of this event is to bring people from different regions with different culture to bring at one place which is a perfect example of culture and ethnicity, the Pink City Jaipur.
Jaipur is not a city for locales but also for the people coming from different parts of the world. Our event is organized in the city Jaipur which is great center for tourists. People coming from different parts of the country and world can take a trip around the city and the places nearby it.
Here is a list of places where you can spend some quality time alone as well as with your loved ones-
A beautiful fort built by Maan Singh, general of Akbar in 16th century. The fort is surrounded by marvelous architecture which depicts both Hindu and Muslim cultures. It is built with both white and red marble. The fort has different section among which Sheesh Mahal most distinct. Tourists can take a trip between 10 AM to 5 PM (daily) and can spend 2-3 hours in the fort.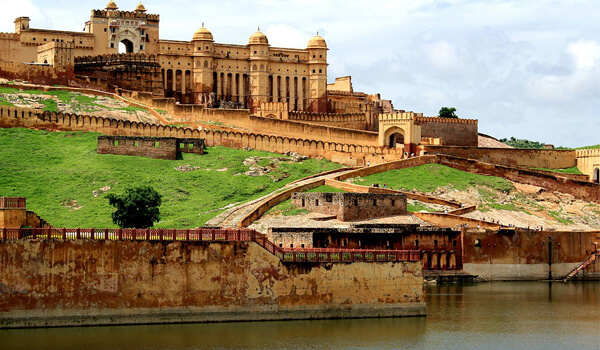 Hawa Mahal, Palace of Winds
Hawa Mahal also known as Palace of Winds was built by Maharaja Sawai Pratap Singh in 1799. This is an extension part ladies section of the City palace of Jaipur. The Hawa Mahal was built for ladies who strictly observe Pardah those days, so that they can watch the processions and street activities. It is beautiful example of architecture. The best time to visit Hawa Mahal is early morning, timings of opening are 9 AM-4 PM.
The palace is constructed by Maharaja Sawai jai Singh II which cover almost one seventh of the total city of Jaipur. It is also a exotic sample of fusion of both Mughal and Rajput Architecture. The best time to visit City Palace is before noon. Timings to visit the palace is 9:30 AM-5:30 PM.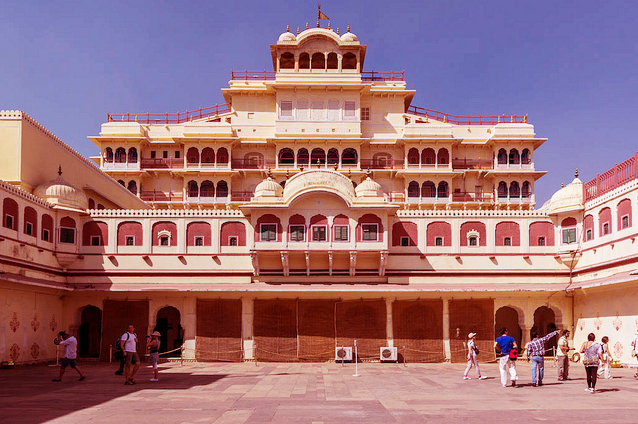 The fort was built by Maharaja Jai Singh. It's a beautiful fort located along the Aravalli Hills. There is a lake, food court and restaurant at the top of the restaurant. It is a good place to hang out with a lot of history. Best time to visit the fort is during winters and in the mornings.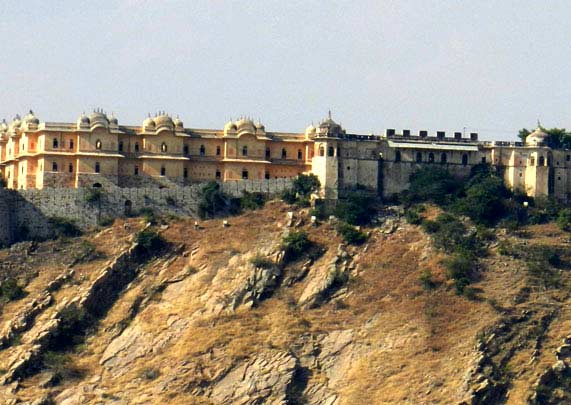 Jal Mahal is a wonderful architectural example that is constructed at the middle of the Maan Sagar Lake. The mahal was built by Maharaja Madho Singh I. This palace also resembles the bond between Mughals and Rajputs. Jal Mahal can be visited on the way to Amer Fort.
Jaigarh Fort situated about 15 kms from the Jaipur city was built by jai Singh II. The fort is known as Fort of Victory, as during the Rajput and Mughal rule the fort was used to store the weapons and different military utilities. The fort has marvelous interior and has a unique approach. It is a best place to view the weapons, and different war utilities of that time. Best time to visit the fort is evening. The main attraction of the fort is gigantic canon Jaivana.
Journey of Jaipur doesn't end with the palaces and forts, there are other places also which portray the history in different way:
Albert hall built in 1876 as a concert hall, and it was named after Victoria and Albert Museum of London. The building has its own history from the day of its foundation till the day of its final establishment. The museum is famous for its architecture and range of artifacts and handicrafts. The museum is equipped with 16 galleries which display different arts and sculptures. Tourists can visit museum between 9 AM to 5 PM. Night visit timings are 7 PM to 10 PM.
Jantar Mantar Observatory
The Jantar Mantar was built by Maharaja Sawai Jai Singh II as he was fascinated with celestial objects. The observatory is equipped with 19 large instruments that are used for measuring the distance and position of celestial bodies. Best time to visit the observatory is mid day as at this with the help of the sun position measurements with each instrument can be understood.
A Light and Sound show is the most significant feature of Jantar Mantar.
https://upload.wikimedia.org/wikipedia/commons/f/f9/India_-_Jaipur_-_002_-_Jantar_Mantar_Observatory_%281026583267%29.jpg">
Sisodia Rani Garden is a pleasing place for nature lovers. The place is located a little away from the city and named after the second queen of Maharaja Sawai Jai Singh. The garden was painted all over with the picture of Radha- Krishna that chant the love of Maharaja Sawai Jai Singh for queen Sisodia. Best time to visit the garden is winter and early summer. The Garden is open for visit between 8 AM to 5 PM.
The temple is a large colony of monkeys and thus resulted in the change of name of temple form Galta Ji temple to Galta Ji Monkey Temple. The temple is centered on a water spring that has been channeled to fill seven large pools in the temple. Temple can be visited any time of the day.
Abhaneri was orinaaly known as Abhanagri, the City of Brightness. The city was built by King Raja Chand of Gurjar Kingdom in 9th Century. The major attraction for the visitors is Chand Baori. It has a multi-step well that was built to conserve rainwater. The well is 20 meter deep and have 13 steps, and this is considered as the deepest and largest step well of India.
Govind Dev Ji Temple is a prime destination for the devotees of Krishna. The temple is surrounded by gardens and paintings. The temple was built by King Sawai Pratap Singh II in 1735. The temple ceiling is made of gold and has World's Widest Flat Roof with a single span of 119 feet, which make world record in The Guinness Book. Temple is open for visit between 5 AM to 9 PM, but there are different Darshan and Aarti timings- Magla Aarti- 5-6 AM; DhoopAsrti- 8-9:45 AM; Shringar Aarti- 10:30-11:45 AM; Rajbhog Aarti- 11:45 AM- 12:15 PM; Gwal Aarti- 5:30-6 PM; Sandhya Aarti- 6:30-7:45 PM and Shayan Aarti- 8:30-9 PM.
One of the marvelous architecture of Jaipur is Lakshmi- Narayan Birla Temple. The temple is constructed with white marble and scriptures of different Gods and Goddesses. There is a large meusuem inside the temple where visitors can see and buy different artifacts. Timings for temple are 8 AM- 12 PM and 4 PM to 8 PM.
Central Park is a best place to enjoy the nature and greenery of the city. The Central Park of Jaipur is located in the core of the city. The place is main attraction for Polo and fitness freaks.
Beside this for people who love adventure Jaipur offers a variety of adventurous trips-
Elephant Safari in Amer Fort, Jaipur
Elephant Safari is one of the main attractions of Amer Fort. For those who are visiting Amer Fort can enjoy the elephant ride up the hill to the main entrance of the fort. It is recommended to reach fort by 9 AM to ensure hustle free elephant ride.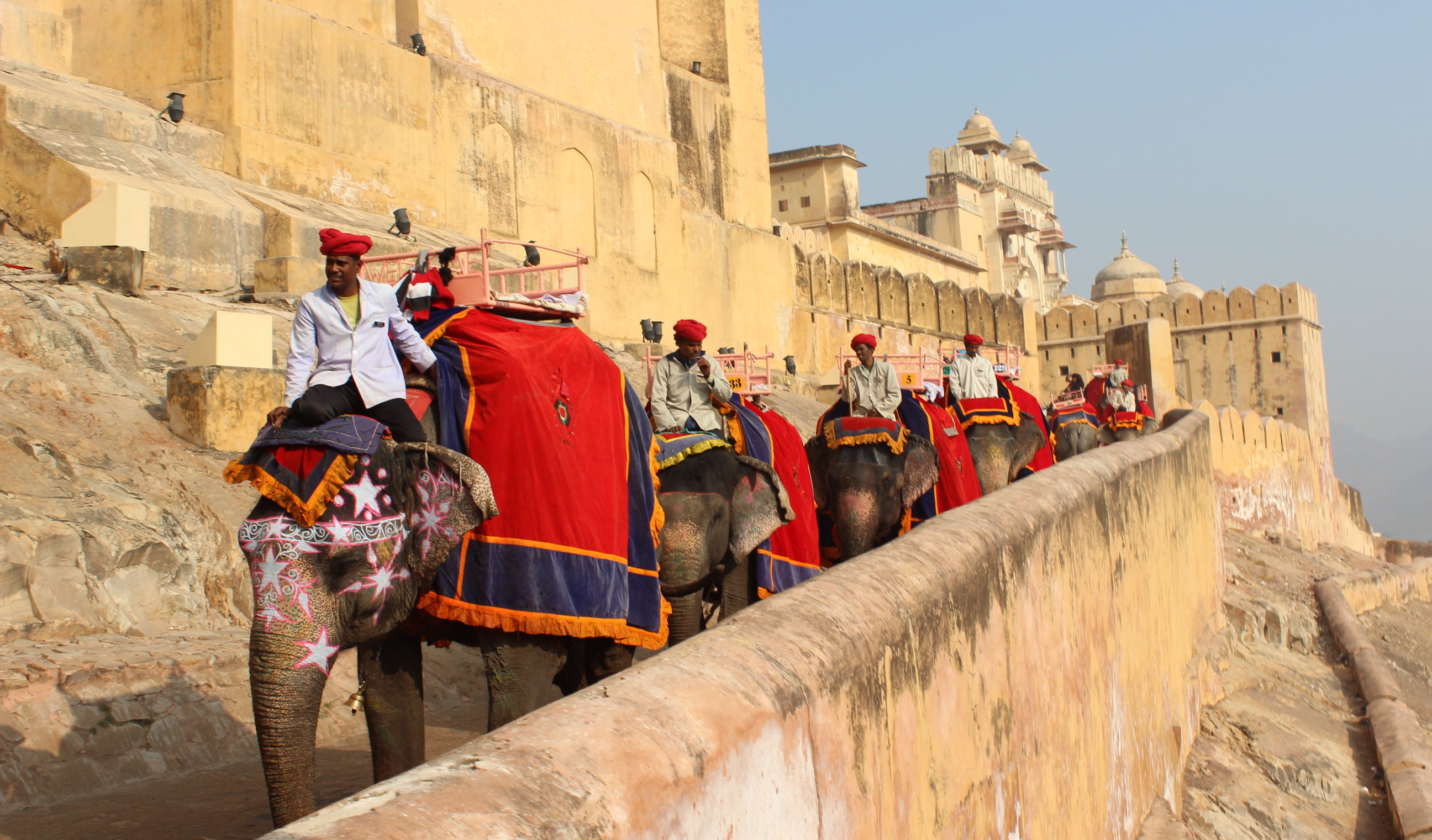 Jahlana is converted areas into urban regions which is situated in the heart of the city Jaipur. The park hosts more than 20 leopards which can be seen around the park boundaries. Recently city authority has started jungle safaris in park in vehicles. Best season to visit safari is November to March.
Jeep Safari to Nahargarh Sanctuary
Nahargarh Biological Park is considered as one of the most recent addition to the Rajasthan Tourism. The Biological park is situated in the vicinity of Nahargarh Fort. Best place to explore wide range of wild animals while roaming in Sanctuary in jeep.
Motor Cycle Trip to Sambhar Lake
Bike lovers can have more fun on motor cycle ride to Sambhar lake. Tourist and riders get indulge in the DJ parties and other activities. This could be a 2 days trip full of road adventures.
Hot Air Balloon Safari, Jaipur
Hot Air balloon safari is a bit different way of seeing the internal beauty of Rajasthan. Take a trip of Jaipur in Hot air Balloon and explore Jaipur with different angles. The flight assures you a lot of adventures and fun. The Hot air balloon Safari trip planners provide different plans and offers..
Jaipur is the best destination for food and shopping lovers, those who want to experience Rajasthani ambience and want taste a complete Rajasthani food can visit ChokhiDhani. And for shopping addicts there many local Bazaars in Jaipur and nearby areas.
So be a part of Cairn Pink City Half Marathon and enjoy the beauty and culture of Pink City Jaipur.
How to Reach Jaipur?
For people coming from different regions of India, they can take road trips via Buses and Cabs. Some states provide direct/indirect routes of railway journey.
For international participants, who are coming from via Delhi, they can go for Road Trip via Bus and Personalized Cabs and taxis. And there are number of trains available from Jaipur to Delhi.
International Flights are available directly from different countries reaching to Jaipur International Airport. Some connecting flights are also available. Jaipur International airport is located in Sanganer which is 13 km from Jaipur city.
Where to Stay
When we move to a new place the most troubling question is where we going to stay, but in Jaipur you need not to worry about this.
There are many Travel Agencies which provide a wide range of Hotels and Accommodations at reasonable prices. Or one can directly book a hotel form any Online portal like Make My Trip, Trip Advisor, Mahindra, etc.
Best Food Places
Rajasthan is famous for its range and traditional taste of food. Every day you can have numerous varieties for your breakfast, lunch, snacks and dinner.
Best Breakfast Point in Jaipur is 24/7 Restaurant, Okra, Jal Mahal, Jaipur Pavilion – ITC Rajputana Hotel, etc.
For Lunch, we recommend you to have traditional Rajasthani Buffet at Jal Mahal, Okra, Marble Arch, The Royal Treat, Chokha Punjab, Chaupal Restaurant, etc.
For Snack don't go for a particular shop, though there are many, but the taste and charm of local snacks is when you eat it from roadside chaupati style shops.
Dinner is offered in wide range in Jaipur depending on the choice of the person like Fine Dining, Local Cuisine, and Bars and Pubs. Select your restaurants as per your choice.